I'm ahead of my time, once again
It will probably surprise no one that I read a bunch of Ayn Rand when I was in college, but I never tackled her magnum opus, the 1200-page behemoth Atlas Shrugged. But for some reason, I felt compelled to change that a few months ago. I can't tell you why. I even survived the hype surrounding the 50th anniversary a couple years back without succumbing, but a couple of weeks ago, for some reason, I felt that I had to read Atlas Shrugged.
I expected it to be a chore, but I was amazed at how swiftly and how utterly it pulled me in. I began telling a like-minded colleague about the book and told him he should read it too. But when the local bookstore proved to be sold out of it, I went online to try to find him a copy in the local library system. This next will sound hard to believe, but it is true. Out of 79 libraries in four nearby counties, every copy was currently checked out. Every. Single. One.
The I saw this story about how sales of Atlas Shrugged are skyrocketing. I'm such a trendsetter! And check out this recent photo from the NY Daily News.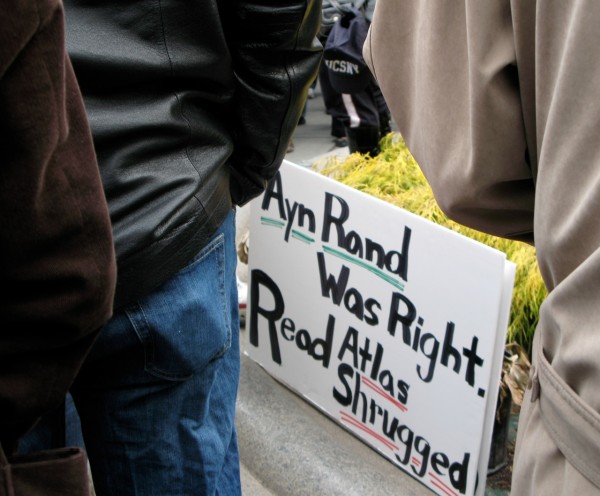 So what happened? It's not just me, I guess. It's almost like a whole army of us folks were suddenly "activated" like Cylon plants or something, and spontaneously felt compelled to read some 52-year-old melodramatic novel. Weird, huh?
So anyway, let's talk about the book (even though I'm only about halfway through, because I'm an embarrassingly slow reader and I always read at least three books simultaneously.) Doubtless one of the reasons I'd never taken the plunge before now was the scathing critiques I'd read of her fiction even 20 years ago (most of her work that I read in college was essays and the like.)
To be fair, I found that many of the knocks against Rand's fiction are somewhat deserved. She's about as subtle as a daisy cutter for one thing, and she can sometimes beat you over the head when making a political statement. And yes, her prose is at times overwrought and turgid. But you know what? She's still better than 90% of the dreck on the NYT bestseller list. Hell, compared to Dan Brown, she might as well be Shakespeare.
And yes, the delivery mechanism for much of her political philosophy here is a trashy soap opera with breathless dialog. But remember, Rand was writing in her second language! And soap opera though it may be, it is as compelling as any fiction I've read in years. I just got done with this ludicrously melodramatic scene involving two women arguing over a bracelet at a wedding party and I could not put it down!
There's something to be said for that, Rand's literary detractors notwithstanding. I used to steadfastly defend the prose of Ian Fleming for the simple reason that he could write 30 or 40 pages about a baccarat game or a round of golf and keep me totally absorbed the entire time. That's genuine talent as far as I'm concerned, and Rand has it in spades. In fact, Rand would no doubt value Fleming's writings herself, if not because of their content then because of their commercial success. I could prove my point, but it would give away too much of the novel for those who haven't read it (but pay particular attention to the character of Balph Eubank.)
And now I'd like to address some of the other criticisms I've heard of the book over the years. First, that its protagonists (Hank Rearden, Dagny Taggart, et al) are assholes. Well of course they're assholes. They're heartless, inhuman automatons. But they had to be. It was necessary to prove her point. If they'd been some nicey-nice capitalists with hearts of gold or with a "social conscious," it would have completely undercut the thesis of her book. Rand wanted to illustrate that people who acted solely in their own self-interest were ultimately more beneficial to society than a raft of do-gooders, who ultimately have to rely on the wealth of the actual producers to further their sanctimonious, self-righteous ends.
And anyone who thinks Rand glorifies corporatism simply hasn't read the book. Most of the corporate types in the novel are loathsome wretches, and the real enemy in Atlas isn't so much "government" as that unholy alliance between government and corporate lowlifes who seek favorable legislation to help line their own pockets.
To modern readers, it might seem unrealistic the way Rand depicts the American landscape as fraught with avid collectivists and redistributionists at every turn. But remember, this was a different era. In 1957, when the book was published, the top marginal income tax rate was 91% (I shit you not!) and blatant appeals for socialism were much more common in genteel society than they were in the post-Reagan country most of us now consider normal.
In the end, my biggest critique of Any Rand is that she ultimately went from brilliant antistatist to cult leader. Her antipathy for religion (both conventional as well as the secular religion of collectivism) is sadly ironic in that she became a de facto religious leader herself. Granted, she cannot be held responsible for the excesses of all the Objectivists who followed her, but she was given to demanding absolute fealty with statements such as, "If you agree with some tenets of Objectivism, but disagree with others, do not call yourself an Objectivist." In short, she eventually acquired all the aspects of a religious leader -- including, if I read between the lines correctly, an aversion to alcohol(!)
But all of that being said, it's a terrific read, and I wish I'd read it earlier. If you've read this far and still haven't read Atlas Shrugged, then that means you need to right away. Go grab a copy (if you can find one!) and read it. We'll discuss it later.