The Paris Hilton fallacy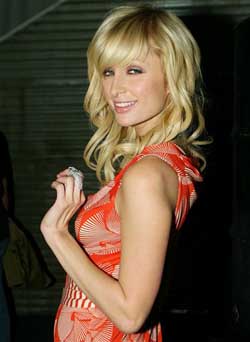 I normally enjoy reading TNR's Peter Beinart, but his recent piece on the inheritance tax was a huge disappointment. Beinart grossly oversimplifies conservative opposition to the inheritance tax, and then goes on to pronounce that opposing the tax is not only bad policy, but immoral -- then he jumps the shark and invokes Paris Hilton.
I shouldn't be surprised. The ditzy heiress has been a ubiquitous staple of liberal estate tax boilerplate these days, but I assumed the Beinart was capable of making a better argument than that. I guess I was wrong. The subtext of the Paris Hilton "argument" is simple -- "That stupid, blonde slut has done nothing to deserve that money. It should therefore be confiscated and redistributed to the rest of us." (Why the federal government is a more deserving recipient of the Hilton fortune than Paris or Nikki is not explained.)
The problems with this line of argument are obvious. To suggest that Paris Hilton is in any way representative of the typical victim of the estate tax is pure crap. Tarring everyone who inherits an estate worth a million bucks with the Paris Hilton brush is every bit as disingenuous (and offensive) as equating every recipient of social services with Ronald Reagan's "welfare queen." They are mirror images of the same, base rhetorical gimmick: eschew logic and rational arguments in favor of a stereotype designed to inflame anger and resentment in the voting populace.
So why would someone as bright as Beinart resort to such cheap demagoguery? Perhaps it's because a compelling, empirical case in favor of the estate tax is difficult to make. Maybe that's why Beinart result to vulgar symbolism and moral absolutism: "Ultimately, the argument against the estate tax, like the argument against social insurance, is moral. It is about right and wrong." When you make such pronouncements with all the authority of religious dogma, you obviate the need to buttress your viewpoint with facts.
Beinart bemoans the unpopularity of the death tax, and seems genuinely mystified that...


...many of the most fervent anti-estate tax crusaders have no monetary interest in its repeal. And, amazingly, most Americans oppose the tax even when told that it applies only to the hyper-rich.

Maybe these people recognize that antipathy for a brain-dead hotel scion is not an acceptable basis of fiscal policy. Perhaps they don't wish to live in a society where people like Beinart decide who gets what on the basis of someone's subjective notion of "worthiness." Maybe, just maybe, they're shrewd enough to recognize the tax for what it is -- naked redistributionism fueled by envy and class warfare.
The most pernicious aspect of the inheritance tax is that despite its confiscatory rates (estates are taxed at much, much higher rates than income and capital gains), it accounts for a miniscule fraction of total federal revenue. Government policies whose primary goal is the confiscation and redistribution of private wealth are anathema to many Americans. It smacks of Marxism to most, and rightly so.
The only argument in favor of an estate tax that I can begin to appreciate is that inheritance should be treated as income. Even so, the punitive rates of the current system are impossible to justify, as inheritances are taxed at a much higher rate than ordinary income. Furthermore, even if we were to treat inheritance as income, generous exemptions should be allowed so that inheriting the family home (or farm or small business) would not incur a huge tax liability.
Better yet, consign the damn thing to the dustbin of American history, along with the poll tax and debtors' prison. Taxes should be levied to raise funds for the government, not for the sake of social engineering.