Bush's America vs. post-Kyoto Europe
I've long believed that European leaders were smart enough to recognize that the arbitrary goals and timetables of the Kyoto accords were wholly unrealistic and probably unworkable. Nonetheless, they made a calculated decision to sign on anyway, knowing the political goodwill generated from such empty posturing would make it worthwhile.
Seems like they were right. For fifteen years now, Western lefties and greenies have enjoyed portraying Europe as the caring, conscientious steward of the planet, while demonizing the U.S. as a reckless climate-wrecker.
Well check this out. Since 2000, tax credits and other market incentives have kept CO2 emissions barely above 2% in the U.S., while under the strict limits and mandates of Kyoto, European emissions have grown at more than twice this rate.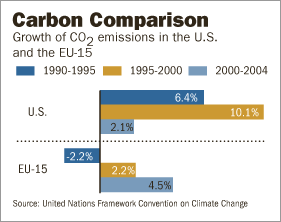 Heh, pretty funny, huh? Maybe there's still a thing or two those Europeans can learn from us cowboy rubes after all.