The rich's "fair share"
Everyone's always telling us that the rich should "pay their fair share" of income taxes, but they never tell us exactly what how much that "fair share" is. Well I don't pretend to know either, but I do know that they're paying more of it now than they did in the middle of the Clinton Administration.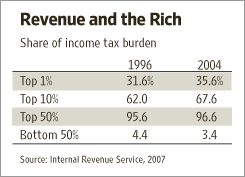 Interesting, huh? The rich are shouldering more of the tax burden and the poor less than they were in 1996. Do I think this is especially significant? No, of course not. I only mention it because I'll bet it's contrary to what most people who consume mainstream news and read Paul Krugman would have guessed. Why? Because the mainstream media and Paul Krugman actively cultivate the belief that the "rich" are getting a free ride under the Bush administration.